Think again.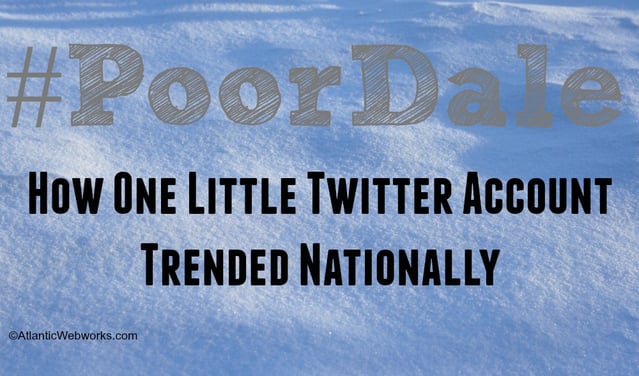 Over the weekend, there was a pretty significant snow storm that hit the East coast. Here in NC, it wasn't as big of an event as they were calling for (depending on your age, that was either a win or a loss) but still enough of an impact to close everything down for a couple of days.
Like most people do when there's a major event, we all tuned in to the news to see who was open and who wasn't. I always think that it would be quicker to say who IS open because that is a much shorter list. Companies send in their closings, and the news stations run them on the bottom scroll bar in a continuous loop. But if you were paying careful attention, the closing for Metal Works of High Point was a bit peculiar:
It seems that Metal Works of High Point would be closed today - except for some poor guy named Dale. Dale was supposed to work normal hours. Within minutes, the hashtag #PoorDale was trending locally and within a couple of hours—nationally.
Even (local) major brand, Krispy Kreme, got in on the fun of feeling sorry for #PoorDale:
How does a company whose Twitter account has only 109 followers make this happen? They take a chance, that's how. It's about having the creativity and flexibility to just do it. I'm sure when the person who submitted the closing did it, they just thought it would be funny and didn't stress over "will this go viral?" It was just good, natural fun— honestly—the best kind of social content always is.
Do we stress the importance of having a strategy and a plan? Yes. But within that strategy, you have to have moments of spontaneity—the ability to just have FUN with your brand or company and create things that people WANT to share. It's about the emotional aspect. Everyone can relate to the poor guy who has to go in to work regardless of the fact there's a blizzard outside.
The next part is a bit more strategical...once you see that you have something resonating with people, you ride that wave as long as you can. Metal Works followed up with an update on Dale's work schedule and the trend continued: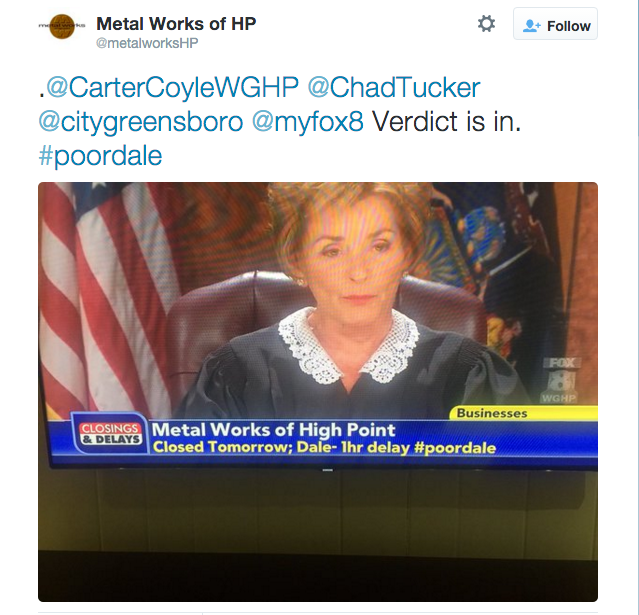 Even making t-shirts to support the #PoorDale trend (no report on sales numbers yet)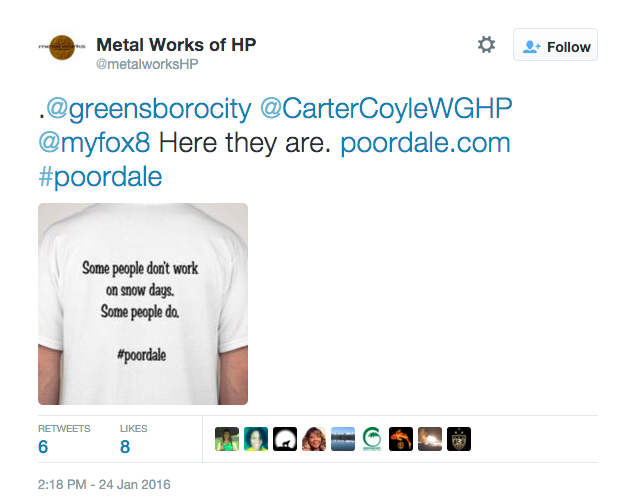 But like everything else, all good things must come to an end. Apparently Fox 8 decided enough was enough and supposedly took away Metal Work's login to report closings...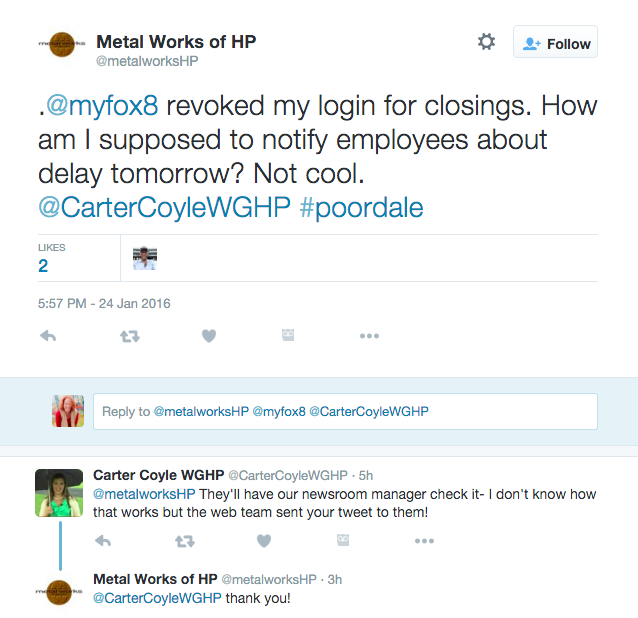 It was so simple and unplanned and, for a good stretch of time this weekend, Metal Works of High Point had their moment trending nationally on Twitter. My question for you is this—would you be willing to step out of your box and try something like this?