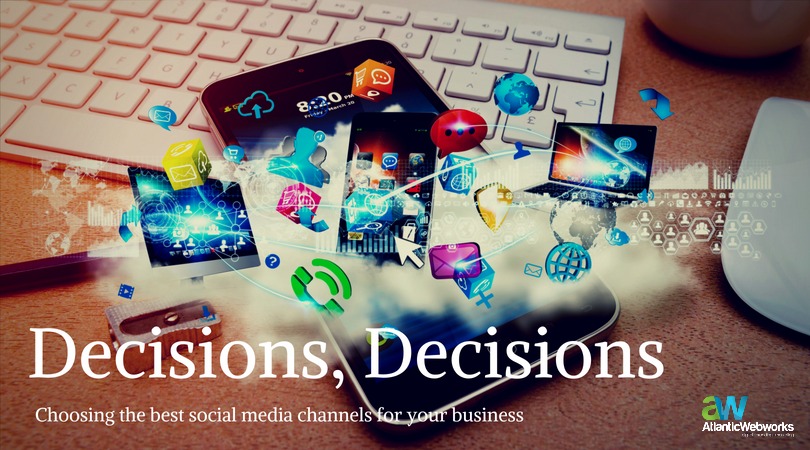 LinkedIn celebrated its 15th "birthday" last week week, and Facebook turned 14 back in February which means that social media is officially a "teenager." No longer the red-headed stepchild of the marketing world, social media and digital marketing are an absolute must when planning out your marketing strategy.
Most companies have at least some presence on social media sites, but if you're just getting started because you finally convinced your boss that your company needs a presence, or you're evaluating the success of your efforts to date or doing a complete overhaul of your strategy, you may be wondering which is the best site to focus your efforts.
Ten years ago, the answer to the question "where" was easy—everywhere! Let's use all the social media sites! It was literally the wild, wild, west, and quite frankly, it was exhausting to be everywhere and do a good job at it. As a matter of fact, most people DIDN'T do a good job at it. They largely took one message and blasted it out across all the platforms. Guess what? That didn't work very well. Each platform has a very distinctive audience who were interested in very different things, and this still holds true.
So, which platform works best for individual businesses? Well, that depends, and the intent of this article is to help you determine which platform or platforms are best for you to effectively market your business. We'll also cover how frequently you should be posting to them.
Facebook
Without a doubt, the biggest of them all, and if you're only going to be on one, this is the one it should be. While the organic reach has been suffering for a couple of years now (and most notably the past 6 months), your Google search results will still benefit from having a presence. The best results are typically seen by B2C companies, but B2B companies can benefit as well.
To see the best results, you should commit to posting quality content daily, and the bare minimum should be three times a week. You also want to be sure that you've filled out all the sections on the page with up-to-date information as well as your other social channel links.
LinkedIn
LinkedIn is considered the "business suit" of the social media world and is the crown jewel for B2B companies; it is where you will most likely see the most social media success. However, this doesn't mean that B2C companies shouldn't be using it. Every company should have at least their business page set up and complete with up-to- date information.
B2B companies should post daily on LinkedIn and include a variety of content from articles their company has written, to product and staff details, as well as important news and press releases. For B2C companies, they can use the same type of content but just need to remember to change the tone to reflect the more professional aspect of the site.
Twitter
Activity on Twitter has changed over the past few years, and some companies have either abandoned it altogether or have a minimal presence. While it is a great way to push out sound bites and links to articles (either your own or ones you find relevant), it takes a lot of work to truly get engagement going. B2C companies will probably find it easier to have conversations than B2B, as a lot of avid users (like myself) use Twitter to get questions answered about a product, service, or company. If you are going to use it as a customer service-like channel, please, please, please make sure that it is consistently monitored.
Instagram
Due to the simplicity of the platform (a picture is worth a thousand words!), Instagram has become one of the most popular platforms for users. Brands that are using Instagram to market their businesses are seeing some good success especially if they're B2C. However, done correctly, B2B companies can see success as well. Product releases, behind the scenes photos, sharing valuable content, and using the video feature are all great ways to bring a lighter side to your company.
B2C companies can post as frequently as they see fit (just not all at the same time, please!) while B2B companies should focus on posting when something relevant is going on in the company, but shoot for at least once a week.
Pinterest
Pinterest is another site that has changed somewhat over the past few years. When marketers "discovered" that Pinterest was a viable option for their marketing strategy, everyone was excited. But, slowly we began to realize that Pinterest is really a place to go for DIY, cooking, crafts, etc., and unless your company falls into one of those categories, it's not worth your time to put a lot of focus and effort there. I'll go one step further and add that unless you have an online store (ecommerce), you're wasting your time.
Here's a great example—we worked with a clothing retailer a few years ago who had incredibly beautiful clothes, but they only sold clothing in the stores, not online. So while we worked with them on their Pinterest presence, it was great for branding but they were unable to see a direct ROI from their time there.
Ultimately, you have to determine what your end goal is and whether you're okay with not generating sales from it and fall into one of the categories I listed above, then Pin away!
YouTube
With the enormous popularity of video, both B2B and B2C companies can gain a lot of momentum using YouTube. It's a natural fit for both, and considering that it is the #2 most used search engine (only behind parent company, Google), not taking advantage of it is a mistake.
You can use it for product demonstrations, how-tos, product launches, company announcements, and anything else that aligns with your company's culture. How frequently you post videos really comes down to how often you can produce the content. We did a full series on getting started with video content, and you can access that here.
In conclusion, what I hope you'll take away from this is that you do not have to be on every single social site, but if it fits your company to do so, then go for it. But if it doesn't make sense to your branding and marketing strategy, it's better to NOT be on one than to be on one that just sits idly with no new and engaging content. It's better to put your time and effort someplace that does make sense.