Small boutiques have a very unique opportunity to reach their audience. They usually have a very loyal clientele who loves them and loves to brag that they shop there. Unlike large department stores, the staff is very attentive—doting, almost—and this can turn a regular shopping trip into an event or an experience! People LOVE to have experiences and are more apt to want to share their experiences with their friends. So how can a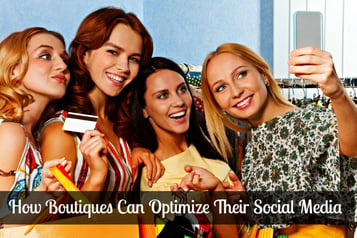 boutique use this to their advantage?
With social media of course! If you are a boutique owner, I encourage you to try these ideas. I think you'll see some pretty quick return from them!
1. Signs - You need to have signs around your store that tell people which social media sites you're on. Yes, almost everyone is on Facebook, but that's an even bigger reason to tell them WHERE you are on these sites. Believe me, once they leave your store, they will not go pecking around to find you on these sites once they're home. Make it easy for them to find you.
2. Pictures - You can't take enough pictures in a boutique. Invest in an iTouch or an iPad and leave it with your staff. Boutiques tend to have a very limited number of items, so getting those pieces on your website may not always be the most viable option. Take pictures of new arrivals, staff favorites, and your customers (with their permission), and then post it on your Facebook page, send a tweet, or show it on Instagram! Encourage your customers to take and share pictures, too! You can even promote and have them use your very own....
3. Hashtag! - Create a hashtag and use it for every single thing that you post. If your store name is Tres Boutique, for instance, you can make it #ShopTresBoutique, #TresBoutique, #LoveTresBoutique or something else that is unique to your store. This does a couple of things... It builds on your brand with consistency and gives you the ability to search for people who are posting using the hashtag.
4. Great Finds - You know what looks great paired together because it's your passion and your career. But someone like me, for instance, has no clue how to pair two things together and come out with a fabulous outfit. If you've got some downtime during the day, play dress up and put together great outfits and post them! You can put it on a mannequin but to make it really personal, put your staff in the outfits! You can even do a budget-type post... "Great finds for under $100" for instance. [Tweet " Consider social media the new way to window shop!"]
5. Videos - Use your smartphone or iPad to film quick little 30-60 second videos and tutorials. Have a line of scarves in your store? Show how to tie them. Most people (again, me!) only know how to wrap a scarf one or two ways. Carry jewelry? Show how you can mix and match to create a unique look. What about showing how to accessorize some of the latest trends? Look around the store, and anything that people are constantly asking you about is perfect for a quick video!
Using social media to promote your boutique is a simple and cost-effective way to get your items where they need to be—in your customers hands!!