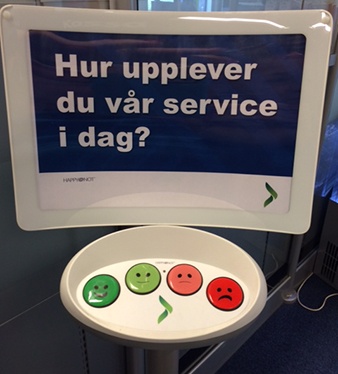 This past month I took a trip to Sweden to visit my husband's family. There are lots of great things about Sweden that I appreciate, but one of the best is the overall effort of the citizens to keep things orderly, smart, and easy. This is seen in many places, from the "take a number" queues at their banks to the super efficient check-out processes at stores. On this trip, I discovered a new customer feedback practice which I thought was so simple that it was perfection.
What was it? The machine pictured above. I saw these at a number of stores—electronics stores, clothing stores, even a supermarket. Positioned just beyond the checkout counter, this genius machine stands alone with no further documentation than what you see; it's pretty clear what is being asked whether you speak Swedish or not. It wasn't a lengthy survey—no cash register receipt with a code or URL asking you to "visit our website and complete the survey for a chance to win a $25 gift card," nothing complicated or imposing on my time. It asked simple question: How would you rate our service today? You would answer by selecting the face representing your satisfaction level.
The concept recognizes that, ultimately, you are either satisfied or you are not. This is very similar to the concept of the Net Promoter Score (NPS) that asks "How likely is it that you would recommend our company/services to a friend or colleague?"
Of course, I had to ask one of the store managers what kind of response rate they get from their shoppers. Not surprisingly, he said that most shoppers (he estimated 60 - 70%) pressed their answers as they walked past the machine. He also mentioned that when one of their checkout staff encouraged people to leave their feedback, the participation rate went up even further.
As a marketing company, we're often involved in helping clients design feedback mechanisms and calls-to-action, both on their websites as well as across other marketing platforms. We always encourage keeping it simple, and this machine is a great reminder of how proper positioning in the process and keeping it simple can incorporate fun, ease of use, and convenience. No instructions or translation needed.
How do you collect customer feedback? Could it be made simpler? More convenient? Fun?