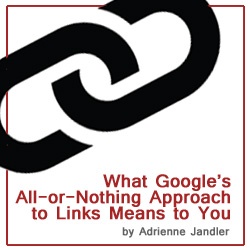 Search engine optimization is changing, and quickly, but that's not really news. Most would agree that even business owners and marketers who don't consider themselves "web-savvy" know that SEO is constantly shifting.
What they might not realize, however, is that search is shifting in some subtle ways. For example, Google seems to be headed for an all-or-nothing approach to inbound links, and that could have big repercussions for your company.
Let me explain: in the recent Penguin and Panda algorithm updates, Google made big changes to the way it values inbound links—the ones you get from other websites that point at yours. Specifically, they devalued many of them to the point that low-quality links were either worthless or could actually hurt your search engine ranking.
What this should tell you is that at some point in the future only high-quality links (those originating from other industry-relevant websites with high page ranks) are going to matter. The web is just too big with too many links to pay attention to all of them, so Google is only going to count the best of the best.
The question that remains is this: what are you doing to build and attract high-quality inbound links? If you don't have a good answer, it's time for us to talk about your Internet marketing plan.