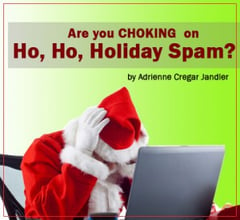 'Tis the season, and if your inbox is anything like mine, you're getting more than your fair share of Christmas emails - from the daily e-tail specials from big box retailers down to e-newsletters, e-cards, and holiday greetings from local businesses. As happens every fall, there are huge increases in promotional mail as email marketers try to reach consumers shopping for the holidays. Now, twelve days into December, I'm *over* the massive influx and tired of hunting for my legitimate email in a sea of ongoing holiday deals, specials, and promotions. My patience is running thin with regard to unsolicited commercial email, and I suspect yours might be too.
Since I'm in the business of helping companies use email for marketing purposes, my posts would ordinarily be focused on best practices, tips on designing emails for increased read rates, etc. However, this year the holiday emailing seems to have hit a fever pitch, and clients, friends, and family have been asking what to do if they are bombarded with spam, or have had their opt-outs ignored. As a professional, I hate to hear of these bad practices, as they reflect on all of us in the industry. Today, then, let's take a look at options for dealing with the holiday spam situation.
Honest Mistakes vs. Honestly Indifferent
In spite of my frustration with the onslaught of holiday junk mail, I think it's important to remember that most businesses are not out to "spam" their lists. Most make an effort to abide by the industry's best practices. Further, few companies consider their emails to be spam, and may not realize that they are breaching best practices with their mailings. This is often true with small businesses that may not have marketing staff, professional assistance, or who may have delegated their email marketing efforts to someone on their team who simply isn't aware of the laws and best practices. That is no excuse, of course, and they are still accountable for their actions. But I think it's worth noting. As a small business owner, I tend to be a bit more forgiving if the offending company isn't deliberately abusing my trust by over-mailing to me, or sharing my email with others. I'll generally cut them some slack and chalk up their sloppy mailing program to not knowing any better. But what about when a company blatently takes advantage? What if they are honestly indifferent to the best practices, and flaunt the laws regarding email?
Respecting Recipients
As consumers, there are protections in place for us with regard to commercial email (aka "spam"), and these protections, and the guidelines for the sending of commercial email, are detailed in the CAN-SPAM Act of 2003 and governed by the Federal Trade Commission (FTC). Surprised that this is handled by the FTC? It actually makes sense, as the FTC looks out for consumers, working to prevent fraudulent, deceptive, and unfair business practices in the marketplace and to provide information to help consumers spot, stop, and avoid them. To that end, businesses that violate the CAN-SPAM Act are subject to substantial punishment.
Stopping the Madness
What should you do if you are being overrun with spam? There are several ways to curb it:
(1) Opt Out
A first step is always to unsubscribe from (opt-out of) the list. To do so, look at the bottom of the email you received; the unsubscribe/opt-out link is almost always in the footer of the email. If there is no opt-out link, contact the sender and ask how you can opt out of their mailings.
(2) Confirm Your Address(es) and Subscription Choices
If you are being hit with too many emails from the same company, double-check the "to" address on each email. You may have joined their mailing list several times with different email addresses. We see this a lot (and I've done it myself) when companies provide coupons or discounts for joining their mailing list. Since many of us now have multiple email accounts (work, gmail, etc.), we may have brought some of the onslaught on ourselves. Opt-out for all but your chosen email address so that you can still receive mail from your favorite companies, but only get one copy. When you do opt-out, double-check the lists you are on. Often, companies will offer multiple options for receiving mail and you may have chosen to receive several types of mail when you first subscribed. Go ahead and take the opportunity to remove yourself from all but the specific types of emails you want to receive.
(3) Tighten Email Filters
All email providers offer some level of email filtering, and you can, at the least, list specific email addresses you do not want to receive mail from. Other options often include filtering email by keywords in your subject line or in the body of the emails. Be careful with setting keyword filters, as all email will be run through them and you may end up rejecting legitimate email if your terms are too limited.
(4) Report the Abuse
What if you have opted out, but you are receiving emails anyway? I'd contact the company directly, pointing out that you have opted out and asking them to remove you from their lists. If, however, you have taken this step and you are still receiving emails, it's time to make a complaint.
Ever wonder how you'd actually make a complaint? It's easier than you would think. To file a complaint or to get free information on consumer issues, visit ftc.gov or call toll-free, 1-877-FTC-HELP (1-877-382-4357). Do be careful that the offending company truly is breaching best practices, and make an effort to remove yourself from the lists before complaining, as serious punishment - substantial penalties, and even imprisonment in some cases - may be involved.