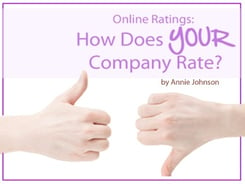 Is your client close to sealing the deal with your company but having some doubts? Potential clients often search online to see what others say about their interactions with your service or product.They flock to internet rating sites to get the scoop from their peers. Internet rating sites are also a popular way for disgruntled customers to unveil their dissatisfaction to others. As such, it's important that businesses take an active role in monitoring ratings they have received.
Not sure where to look?
Here's a quick rundown of three of the most popular online rating sites:
Angie's List: You may have seen its commercials featuring people talking about their satisfaction with Angie's List. What sets this rating site apart is that they do not allow anonymous reviews.Their certified data collection process prevents companies and providers from reporting on themselves or their competitors.They also give the companies and providers a chance to defend themselves against bad reviews by responding to reports, so visitors get the whole story.
Yelp: Yelp may be considered the mother of all rating sites, but many are quick to point out its faults.With an impossible-to-understand filtration system, not all reviews appear, and the integrity of the results is sometimes questioned. Although you may have received a number of reviews, because of the display algorithm, your great review could go undisplayed which means it will not be noticed by potential customers. In addition, people have the option to simply rate a business with stars rather than take the time to write out a full review.
Google+ Local: Your Google+ account allows you to review most places you've been.The positive to this is that not only is the reviewer's name attached to the piece, it is also shared within their Google+ circles.This has great potential for word-of-mouth publicity from a positive write-up. However, an unreviewed business might be beaten by one with many more.It seems that Google is signaling that reviews will soon play a large part in the future, so you might want to garner them while the process is still young.
Don't forget Industry-Specific sites
If you're a business new to the rating sites, we recommend also joining industry-specific networks. Some examples include Urbanspoon and OpenTable for restaurants, TripAdvisor for travel, and Healthgrades for those in the medical field. If people are serious about finding a good restaurant, hotel, doctor, or travel destination, they'll start looking at the specific rating sites for more thorough information.
In addition to ratings sites, there are also ratings sections of broader networks, such as Facebook and LinkedIN. While these typically don't offer all the options that full ratings sites offer, they have the benefit of being on a site where there is already a lot of activity (i.e., where your friends, clients, and prospects are already gathered and talking). For tips on how to solicit great reviews, check out Adrienne Jandler's recent post, How to Solicit Rave Reviews, Not Rotten Tomatoes.