How to Get Attendees' Attention at a Trade Show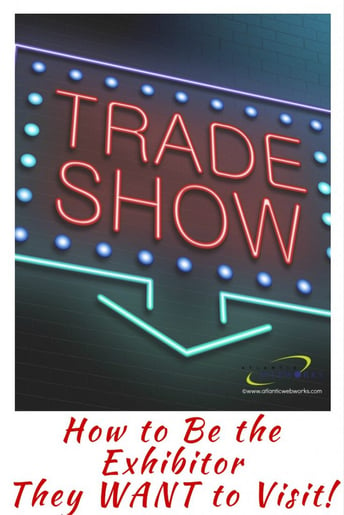 I was recently interviewed on a podcast that will be broadcast to thousands of HR professionals right before their biggest conference and trade show of the year. I am actually attending the show with a client of ours who will be exhibiting, and if you know anything about conferences, you probably know that often exhibitors are viewed as a "necessary evil." While this is largely an unfair and unfounded misnomer, there is a reason why brands and exhibitors can come across this way.
It's because of the way they often market and promote themselves before, during, and after the trade show.
The reason that I was asked to be on the podcast came down to one thing—how I had approached the marketing aspect for my client. I didn't go in there with my vendor hat on; I went in there with my marketer hat on and, therefore, was the only vendor (out of more than 600+) who received such an invite. That says something friends, and I was beyond honored and proud.
Too many companies pull the "it's all about us!" card and sell, sell, sell. Look, I get it—you've spent a lot of money to exhibit at these trade shows, and you know that you had better show some ROI on that money, or someone up the corporate food chain is not going to be happy. There's a lot of pressure to stand out from all the other vendors who are there for the exact same reason you are. But what if I told you there's a way to to do it and in a way where you get your point across, drive people to your booth, and let the attendees know you have something they need?
Pre-Show Marketing
Planning - Repeat after me: You must have a plan of action in place. What is the golden action you want people to take? Stop by your booth, right? So decide how you're going to do that. Are you going to have a giveaway? Will that giveaway be BIG like an iPad or a normal tchotchke that everyone else is giving out? Whatever it is, have that decided and go from there.
Pre-Show Mailer - I've often said that direct mail is not dead, and in this day and time, all of us are being beaten over the head with social content. A well-done direct mail piece can work really well in this instance. Most shows will offer mailing lists for sale to their exhibitors—take advantage of it. I personally prefer pre-show lists and mailers because you can target your message and direct attendees to your booth. Post-show lists don't do as much for me because you're targeting everyone who attended, and that's a wide net to cast. If the list is HUGE, cull it down to just those who are your target audience, and that will save you money on the cost of printing and postage.
Pre-Show Branding - Create new cover images for all your social media sites to let people know that you're going to be at the trade show and which booth you'll be in. Just don't forget to swap the cover images out after the show is over. Some larger conferences will even have custom exhibitor badges you can incorporate into your design.
Pre-Show Social Media - I spend a LOT of time looking at who's speaking and attending conferences, and I will create a special Twitter list specific to the show I'm going to attend. This does a couple of things for me. It allows me to start some dialogue with people who are involved (and IF it's natural conversation), I learn more about what the attendees are interested in, and it gives me a stream to follow while I'm at the actual event. Look to see if there is a group of "ambassadors" or bloggers who are devoted to promoting the conference, and if your company has a blog, reach out to them and ask if they would be willing to meet you for a chat and interview. This is a great opportunity to get content for YOUR blog and site as well as a way to promote them! Is your competition going? Make sure you're following along what they're doing pre-show. And of course... see if there is a conference hashtag and incorporate it when you can. I also recommend that you have your own hashtag and pull that into the mix as well.
Pre-Show Content - Look, you shouldn't be "just" selling (remember the 90/10 rule...) on social media and on your blog anyhow, but if you are, please do not increase it before a trade show. Sure you can push out some content that lets people know that you'll be at ABC Conference, but that's enough. Instead, customize your messages as to WHY they should come by your booth while at the conference, and then use the conference hashtag in the message. This is a much, much better approach. Same thing goes for your blog—can you create content that would appeal to the attendees of the conference? Then you're actually offering them something of value, and they'll be more receptive to actually checking out what it is that you can offer them!
At the Show
Now that you're there, if you've done a great job at planning, it should be smooth sailing, and it's time to let your team do their work!
Stay Connected - Use that Twitter list that you created and start to follow what people are saying and when appropriate, join the conversation. People on social media at a conference LOVE interacting with other people there. It's like a big family reunion. I always create a separate stream for the show hashtag, but be warned—there will be a TON of action going on, so don't feel bad if you miss some things. You are there to work the booth, remember?
Live EVERYTHING! - I'm talking live Tweeting, live streaming on Periscope, Blab some interviews, Facebook Live, Instagram, Snapchat—do it all. Believe it or not, there are a lot of companies who still don't do this, and it is the PERFECT opportunity to stand out from the crowd. It will be a lot of work, but trust me, it will pay off. (Pro tip: I will sometimes throw out a "disclaimer" tweet or message just to let people know that I am on-site at an event, so my activity will be much more than a typical day.)
Be Engaging! - Yes, you need to sell your products and services, but make it fun! Let your personality shine through and get to know the people coming by the booth. I have a firm rule when it comes to working a booth—no chairs. Or rather, chairs are for guests/attendees (not for staff). Do not sit down in your booth if it's a time when the exhibit hall is actually open. If there's downtime while sessions are going on, sitting down is fine but only then. There is nothing more off-putting than walking up to a booth and seeing that. And don't even get me started about having staff sitting behind a table. Quite often, I will have it immediately removed, or at the very least, move it so that it's against the drape.
Collect Leads and Information - Whether you're using a lead generation app/scanner that's conference provided or collecting business cards, don't make the rookie mistake of getting nothing. This is how I follow up after a show (instead of buying the post-show mailer), since these are actually people who expressed an interest. If you have a really good conversation with someone (aka a hot lead), make sure you note that on his/her card or somewhere. I even put them in a special place separate from the others, since I know that they need to be followed up with ASAP after the show.
Post-Show Marketing
Follow-Up - Whether you are using the leads you collected on your own, or you decide to buy the post-show list, have a plan in place to send out your piece (whether it's electronic or direct mail) the week after the show ends. Another downside to post-show lists is that everyone is following the same timeline, so your message is going to be one of many. I find that personal emails to the top people you met works best. Remind them of the conversation, and set up a time to continue the conversation.
In closing, the biggest thing to keep in mind when it comes to marketing yourself before a conference or trade show is to have a plan, and make sure your message gives attendees a clear and compelling reason to take the time to see you. Use simple, concise words that can easily be consumed quickly. It also pays to remember that they have an agenda and very full schedule as well.