There have been some exciting new things happening in the world of social media, so let's cut straight to the chase!
Hootsuite is one of the largest and most popular social media dashboards but, up until today, you could not use it to manage your Instagram account. (This was a limitation that was set by Instagram, not Hootsuite.) Imagine the thrill that many Hootsuite users experienced this morning when they logged in and were greeted by this: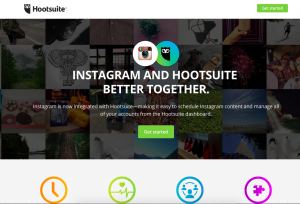 I honestly couldn't get to work testing this out any faster than I did, as this is SUCH a long overdue addition. Apparently, I wasn't the only one excited, because both Hootsuite and Instagram were experiencing some technical issues as everyone rushed to get this set up.
However...
It's not as simple and straightforward to use as all the other social media sites are, so here is a relatively simple walk-thru on setting it up for you:
1. Connect your Instagram to your Hootsuite dashboard (add a network).
2. You will be prompted to enter your cell number for a link to be sent to you.
3. Make sure you are logged in to the correct Hootsuite account ON your phone. For instance, I have two log-ins, personal and business, so I had to log out of my personal account and into the business account.
4. You will need to enable notifications from Instagram inside your Hootsuite app in order to post from desktop OR mobile.
5. To post from your desktop, enter the text caption you want to include with the image, and then select the image as you normally would.
***Don't forget that Instagram photos are square, so unless you want the Instagram app to crop the image automatically, take the time to create a square image BEFORE you upload it.***
6. Decide if you want the image to post now or in the future, then hit "send."
7. You will immediately receive a pop-up notification on your phone that prompts you to be logged into the correct account.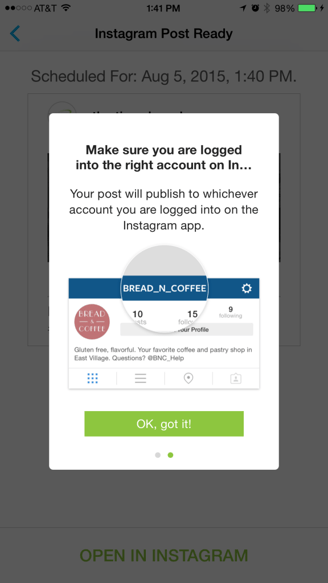 8. You'll then be prompted to publish on Instagram.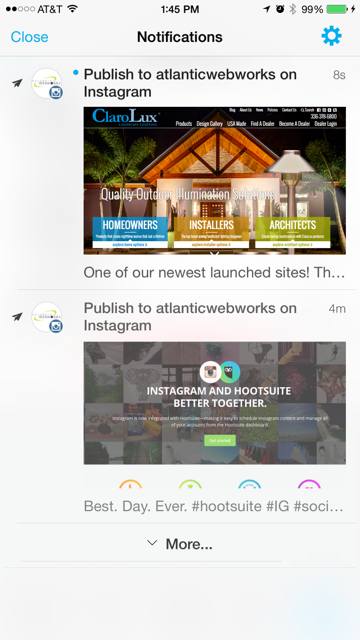 9. Tap the image, and you'll be prompted to open the Instagram app and from there, you can modify the text, add hashtags, etc. This will happen IN the native Instagram app.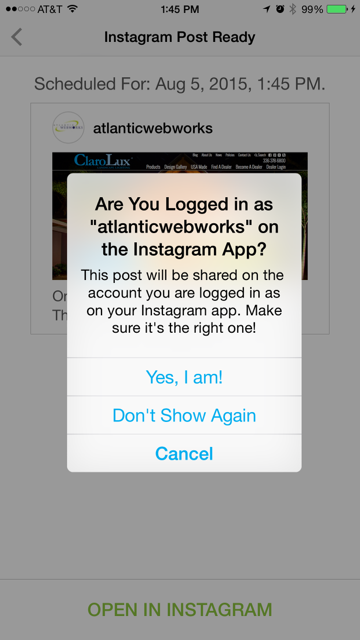 10. That's it! You've just published your image from Hootsuite TO Instagram!!
I know it seems like a lot of steps to do this (it is) but if you manage a business Instagram account (or multiple), it's a great addition to your toolbox. Just the ability to schedule the images alone is worth this new setting in Hootsuite.
Have you tried it yet? Would love to know what you think!!
Oh—and don't forget to follow us on Instagram!!