LET'S TALK TWITTER!
How many Twitter DMs do you get daily? Put a number in your head for a second. Now answer this: how many of these do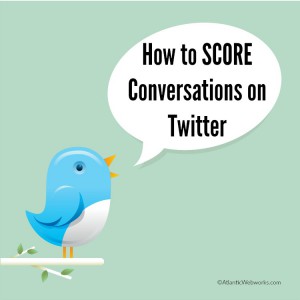 you ignore? If they (those DMs) are anything like the ones I get, I'll bet you ignore them all! But don't do that! From 11 Tweetable Chunks of Twitter Wisdom comes this quote:
I mostly ignore my DMs. Why? Here is why! 'Thanks for the follow. Find me on Facebook, too. Click here' or 'I can get you to the top of Google' or 'What's your favorite color?' Most DMs are sent to me as I connect with people and most of them are spam. As soon as two people follow each other on Twitter, they can DM each other. What is the 5% exception and why should you monitor your DMs despite the spam? Because sometimes real people use DMs for real messages, and real connections are made! I've been invited to be a panelist for a show, to host a tweetchat, and asked to Skype to interview for a writing gig—all via Twitter DM. Those would be opportunities lost if I'd not been monitoring my messages! Just scan and 'mark as read' for most, but be sure to check periodically!
So even though you want to ignore lovely DMs like these (see below), you still need to monitor your DMs for real opportunities to connect and meaningful conversations on Twitter.
(As you can see, I've blocked the profiles, images, logos, and usernames; no need to embarrass anyone!)
One thing to notice about the above displayed DMs is that almost all of these refer to other platforms! It seems people do not know how to converse on Twitter, and they want to"lure" me (and you) to LinkedIn, Facebook, or Google+ to connect and continue the conversation!
Now that you and I know this, let's talk how to go about having Twitter conversations, shall we?
HOW SHOULD YOU START A TWITTER CONVERSATION?
What's so important about having conversations on Twitter? If you are using Twitter for business, it's a great way to grow your network. Who doesn't like knowing more people (i.e. potential clients, customers, and collaborators) and getting to know them at a more intimate level? I know it has helped propel my own business forward!
For very specific examples of ways to start Twitter conversations, read this article with 49 Tweet Ideas To Start a Twitter Conversation. The feedback has been great, and yes, the article sparked many new Twitter conversations for me!
But what is the exact process you go through from meeting and following a complete stranger on Twitter to becoming online acquaintances to becoming friends, collaborators, and even project partners?
YOU NEED TO LEARN HOW TO SCORE ON TWITTER!
The acronym SCORE stands for
Search
Connect
Observe
Reply
Engage
LET'S EXPLORE HOW TO SCORE ON TWITTER!
Here are the steps of the process. It's not hard. It's not rocket science. But… it does take time and effort! Are you up for it? Here we go.
S – SEARCH FOR
People in your industry
Your direct competitors
Speakers
Influencers
Authors of industry articles
Professional bloggers
Brands
Journalists
Local news anchors
Local news outlets
Local companies
Local charities
People with similar hobbies
People with similar interests
People from similar locations
C – CONNECT BY
Following
Retweeting a tweet
Adding them to a (keyword-rich) Twitter list
DMing with a real question or genuine interest
O – OBSERVE THEIR
Twitter habits
Interactions
Conversations
Social Media voice
Tweetchat habits
Timing of tweets and online presence
Retweets
Responses to tweets
Following habits
R – REPLY TO
Tweets and answer questions
Ask a question about an article or tweet
Thank them for sharing your tweet or article
Thank them for connecting
Ask how you can help them
Share what you learned from their content
Give a compliment
Encourage
Wish them a great day
E – ENGAGE TO THE POINT OF
Knowing their first name
Knowing their Twitter handle by heart
Knowing where they live
Knowing their time zone
Knowing their business name
Highlighting each other often
Promoting their articles with pride
Being helpful and supportive
Swapping personal stories
Introducing them to your audience
Being available for feedback
Once you get to E (the engage part), you've now built a relationship with that person, which in turn is an opportunity for business growth.
HERE IS HOW I HAVE SCORE-D ON TWITTER!
I will give you 10 real (business) opportunities I've had from SCORE-ing on Twitter.
I was asked to be a guest on a Tweet Chat.
I was asked to be a guest on a PodCast.
I was asked to write for an online publication.
I collaborated on a local non-profit project.
I was asked to speak at a local event.
I scored interviews with lovely people at PicMonkey, List.ly and StumbleUpon.
I found guest bloggers for my More In Media blog.
I made plans to meet IRL (and did) at a conference.
I made lunch plans with a Keynote speaker at a conference.
I got lots of RTs on important blog posts when needed.
Without the proper mindset, dedication, effort, and time, Twitter is just another place for research and quick news updates. If you want to SCORE, think… more!