"How do I get my employees to share our company's social media sites and posts?" is a question we hear pretty frequently from clients and business people, and my response is usually along the lines of "Well, does your company have a socially friendly environment?" More often than not, they don't have an answer to this question. One of the downsides to new(er) initiatives like social media is that so many companies are just checking a box and saying that they "do" social media. That is the first thing that I'd like everyone to take away from this post: Social media is not something that you DO but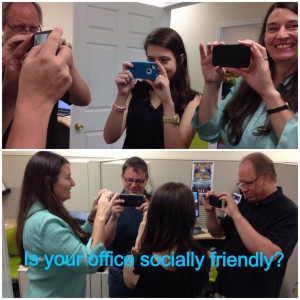 rather a culture that you create that makes people want to engage with you and, ultimately, do business with you.
[Tweet "Social media is not something that you DO but rather a culture that you create."]
What do we consider a "socially friendly environment," and how can you foster it and have your staff WANT to share their office lives?
Is your office a fun place to be, and does your staff like being there? This really is the most important thing because (let's face it) if they don't want to be there, they're not going to share anything but how much they don't want to be there. This is true no matter how much you beg, plead, and bribe them. You can identify pretty quickly which staff members have a good time in the office and which ones would rather be anyplace else.
Do you allow your staff to use social sites during the day? While I agree that there is a fine line between being on social media sites too much and for personal reasons and being on there for work purposes, you shouldn't forbid them from accessing these sites. Honestly, even if you ban them on company computers, they're just going to access it from their phones, so really, what's the point? And if you're banning the sites, you are not a socially friendly workplace.
Set the standard—and a policy. This is a good time to instill a social media policy if you don't already have one in place. While you do want to showcase the environment, you do not want to showcase a top-secret project your company is working on. Don't ever assume that people will use common sense 100% of the time. They may take a picture and not even realize something is visible on their screens, in the room, or something else. By having a policy in place, you circumvent many of those instances.
Photos are great for the workplace - Whether it's a company picnic, employee birthday, or just everyday life, people love to see behind the scenes of an office environment. Throw a "most creative cubicle" contest and have people vote on the winner. Getting an office dog? Crowdsource to pick out a name. It may seem silly to you, but it's the normal, everyday things that get the most positive reaction and engagement. The best part is that there are so many ways to use it—Instagram, Facebook, Vine, Google+ and so on

.

I have a friend who owns a business in Pittsburgh where they have a permanent photo booth set up, and they change out the props from time to time. They have created an incredibly fun and productive workforce, and their employees don't think twice before sharing their 9-5 life on their social channels.
Enlist your employees to write on the company blog - The more included your staff feels, the more they will naturally want to share your message and stories. Select someone to write a post about his or her division or trends in the business world. Not only will this give you more content, it showcases their talent. Consider doing a monthly feature on a staff member; your blog doesn't have to be ALL business!
You don't have to be a restaurant or retail establishment to find "easy posts" for your social media. Just relax, take a look around you, and encourage your staff to capture the day to day things. When it happens naturally is when it's the best!