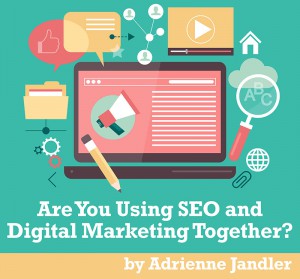 "A business website can't survive on search engine optimization alone."
That might not be exactly the way a certain famous quote goes, but we think it works well in the Internet age. That's because far, far too many marketers either think SEO is the only way to promote their websites, or consider it a completely separate entity from social media, pay-per-click advertising, and other online marketing techniques.
Not only should search engine optimization be used in concert with digital marketing techniques, but it should also be deployed in a way that makes every element of your online promotion more profitable.
Here are a few ways you can use search visibility and other digital marketing channels together more effectively:
Match Keywords to Landing Pages and Website Themes
A lot of marketers like to focus on keywords and search terms that get lots of traffic. But, the most heavily-searched phrases may not be the ones that offer the best fit to what customers are going to find on your landing pages, and across your website in general. Think about your place in the market and what separates you from your competitors. Then, choose search terms that are likely to generate conversions, instead of doing things the other way around.
Utilize PPC to Test Search Strategies
It's amazing how many businesses will spend significant amounts of time and money on search engine optimization, but ignore paid search advertising. At the very least, you can use pay-per-click ads to test different keyword and landing page combinations to see how well they convert and resonate with buyers. Why invest a lot of time and energy in organic SEO without seeing what kinds of results you can expect in advance?
Use Social Media to Enhance Your SEO (and Vice-Versa)
Because social media has become such a big part of our online lives and an important resource for information-gathering, Google and the other engines are beginning to index social content at a much higher rate. So, the more active you are on Facebook, Twitter, and Google Plus, the more likely you are to earn a higher search position. This dynamic can also work the other way around. If you're getting lots of search traffic, make sure visitors can find you and engage with you on their favorite social platforms.
Don't Let SEO Take Away From Your Branding or Message
Although we covered this in our blog recently, it's worth repeating again here: you should never be so focused on search engine optimization that you destroy the branding or messaging on your website. Doing so isn't just counterproductive to your search visibility (Google doesn't like over-optimized web pages), but also hurts conversions when live customers don't like your content.
In the end, SEO is just one of several key tools you can use to bring visitors to your website. It can be effective and efficient, but so too can social media, PPC, and email marketing.
When you remember that, you can avoid the (all-too-common) trap of focusing on technical SEO at the expense of everything else on your website. Your goal isn't solely to earn a top spot on Google, but to be visible enough across the web that your best potential customers can find you and understand what you have to offer.