Which Commenting Platform is the Best?
This is an update to the post I wrote last year. Things change and we always want to keep you up to date!!
Ask five bloggers which commenting system they use on their site and you will probably get five different answers. There are many, including but not limited to:
WordPress
Livefyre
CommentLuv
Disqus
Facebook
Google+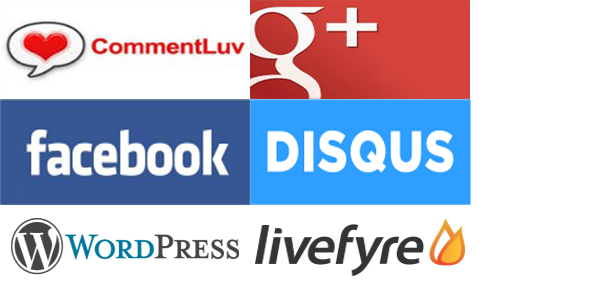 But which one is the best?
Well, that depends on whom you ask. I've tried them all and for my personal site, I finally decided on CommentLuv because it best fit my needs there. However, on this site we use Livefyre because it fits THIS site better. So it all comes down to, what do you want to get out of it?
Kelly and I decided to attack this one together, and she spent some time researching the pros and cons of the three big platforms. As you will see, they really are similar except for a few things.
Pros
Can log in through Twitter, Facebook, Google+ or Disqus
Mobile supported
Comments can be liked
Can upload images to comment box
"Reactions" feature (tracks who mentions blog posts on Twitter)
Displays profile of user (including activity)
Participate in conversation directly from email
Real time comments
Huge user base
Visitors can comment without login
Cons
Allows spammers (auto hyperlink)
Lacking help section
Comments are saved on Disqus server so if you ever switch, you will lose everything
Look cannot be customized
Pros
Can log in through Google, Twitter, Facebook, LinkedIn, or Livefyre
Mobile supported
Real time pop-up with new comments
Best customer support team
Tagging feature (Facebook and Twitter)
Can share comments on Facebook
Shows number of people online/listening
Encourages ongoing conversation
SocialSync (pulling Facebook & Twitter comments into your content in real-time)
SEO credit
Follow people/they can follow you
If people leave a lot of comments, it aggregates all of them into one email
Multiple moderators
See user activity
Uses social media as an extension of your blog
Best system for preventing spammers
Cons
No backlink
Some may not like the social interaction element
Pros
The big draw is this ability to leave a link to one of your latest posts under the comment that you leave. This encourages people to leave a comment as they can promote their latest content.
Usually leads to increased number of blog visitors/commenters
Targeted traffic
Rewards your readers with a chance to promote their blog
Cons
Attracts spammers
Mostly about marketing vs. function
Have to use the paid version to get the most out of it
Exclusive to WordPress
Does not work well for mobile
Google has recently started penalizing comments without "nofollow" links.
Pros
Easy to use. Most people are on Facebook and understand the authorization
Can use criteria such as quality and time of comments (social influence) to put comments in order
Harder for spammers to leave comments sinc you have to have an actual Facebook profile
Cons
No links to blogs or websites, only to Facebook profile
Not everyone wants their comments to populate to Facebook (if they don't see the opt out, it posts to their profile page)
If you remove the Facebook platform, you lose all the comments
Pros
If you're logged into Google, it's easy to use
Great for building your Google+ network and community
If it's fully integrated into your blog, comments can show up on your blog, Google+ and the commenters Google+ profile
Reduces spam comments since you have to have a real Google+ profile
Cons
No links to blogs or websites, only to the Google+ profile
If commenters are concerned about privacy, they may be hesitant to leave comments
No notifications when comments are left
If you remove it, you lose the comments.
My personal preference out of all of them is Livefyre. The one con that is listed here for them is big enough for me to NOT use it on my personal blog. I love CommentLuv, but quite honestly, if Livefyre ever adds backlinks to their service, I would go back to using it in a heartbeat.
What about you - which platform do you use and why?