What Are You Publishing and Where?
What kind of content are you producing for your brand these days?
Whether you are a business owner or an employee, your online brand would greatly benefit from your publishing original content (written, image, or video) to your social media profiles. Until recently, the choices were simple: upload to social media as a post or a link (from your website), and that was it.
Then LinkedIn Publisher was launched in 2014, and everyone who wanted to could use the platform to (re)publish their own content.
Now Facebook has announced that they have released a new (mobile) publishing platform—available to everyone in April 2016.
Let me tell you right here right now that when Facebook gets in on it, it will most likely be a big deal!
Let's start with some basics first, though. Why would you want to publish content anywhere else but on your own website?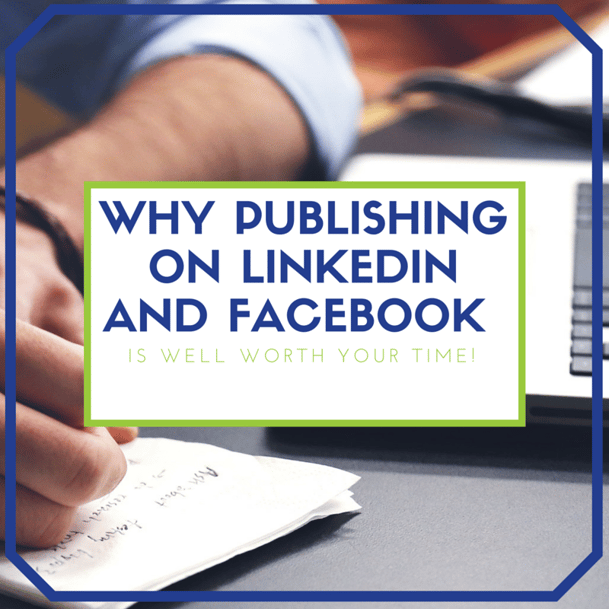 How (re)Publishing on Social Media Platforms Can Benefit You
Let's look at how publishing original content on social media can benefit your brand, or yourself as an individual.
Publishing on a social media platform gives you or your brand
influencer status.
a larger audience to view your content and to engage with.
opportunities to recycle evergreen content (content that remains relevant or up-to-date).
additional entries on your SERP (search engine results page).
brand recognition.
Where and How Often Should You Publish?
The question of "where to publish" and "how often to publish" can only be answered by you or the person in charge of your social media strategy, as it is different for every brand and influencer and depends on your target audience, your skills, your time commitment, and your overall social media strategy.
I would recommend publishing (or republishing evergreen content you own) on LinkedIn Publisher at least once per week. I have been pleasantly surprised by this publishing platform.
Here are a few benefits I've noticed from using LinkedIn Publisher:
New LinkedIn connections
Expanded reach
New blog readers (I redirect readers to my blog at the end of my articles.)
Better SERP results (All of my LinkedIn articles have images, and they come up first in a search of my name.)
Increased influencer status
Increased LinkedIn engagement
Podcast requests
Interview requests
I have only experimented with Facebook notes on my Facebook Page a few times, and so far, I have not been too overly impressed with notes. The reach wasn't great—only 11 people saw my first note—and no one reacted. That was disappointing, since I had put quite a bit of work into it.
However, I am anxiously waiting to see what happens with the new Facebook publishing feature called "Instant Articles" for iPhone and Android, which is coming out in April to everyone who wants it. It's been rolled out to several large publishers, and it looks great.
According to Facebook, Instant Articles will be
fast and responsive.
interactive and immersive.
simple and scalable.
controllable and customizable.
available on iPhone and android.
I am confident this will be a game-changer to those of us who produce original content, and I will be sure to do a follow-up to this post once I've used Facebook "Instant Articles" and have some data on reach, engagement, and ease of use.
Blog vs. LinkedIn Publisher vs. Facebook Notes vs. Facebook Publisher
Are you a bit overwhelmed right now?
I don't blame you.
The best way to approach this is with a plan.
Here is my suggestion; do what you can the best way you can with the skills you have at the moment.
Currently, this is my plan.
Keep blogging on my own website.
Republish evergreen content to LinkedIn Publisher 2-4 times per month.
Write original, LinkedIn-appropriate content once a month for LinkedIn Publisher.
Use Facebook "notes" to publish short rants, tips, or questions.
Jump on Facebook Instant Articles when it comes out. Have a plan of action for Facebook-appropriate content—keeping my Facebook audience in mind!
Continue to guest blog for several niche publications.
Feel free to leave a comment or ask a question about publishing content to social media platforms.